Home
Ashton & Lea
Both Ashton & Lea appear in the Doomsday Book (as Estun and Lea respectively).  Within a couple of hundred years Lea was split into French Lea and English Lea.  Victoria County History lumps Ashton & Lea with Ingol & Cottam.  It gives the following description:-
This composite township lies to the west of Preston. It is divided into two nearly equal parts by the Savock or Savick Brook, flowing west to the border, and then turning south to become itself the boundary at that point. The Ribble's old course is the boundary on the south. The river is tidal here, and the land by it is level, but the surface rises to about 60 or 70 ft. above the ordnance datum, and then falls again to the Savock. North of this stream the ground again rises and over 100 ft. is attained on the border of Woodplumpton.
Lea forms the western part of the township. It was formerly divided by the Savock into French Lea on the south and English Lea, now Lea Town, on the north, but the old names have long been forgotten. On the northern border is Cottam or Cotham, while Ingol lies in the north-east corner, on the border of Broughton. Sidgreaves is or was on the boundary of English Lea and Cottam. South of the Savock the eastern part of the township is called Ashton, or Ashton-upon-Ribble, having Tulketh to the northeast on the border of Preston, and Ashton Bank on the south-west by the Ribble. Greaves lies between Ashton and (French) Lea. A large part of Ashton has now become urban; the dock of the Preston Corporation's Ribble navigation scheme is situated there in what was formerly the bed of the Ribble, the course of which stream has been straightened. The township boundaries also have been altered so as to include about half of Ashton within the township of Preston.
Historically, much of the land has been divided between two families; the Cliftons & De Hoghtons with Savick Brook being the dividing line.
 TITHE MAPS IN HERE
Industrial Revolution
The early years of the 19th Century saw a massive growth in the population of Preston and, with it, the gradual merging of Ashton with Preston.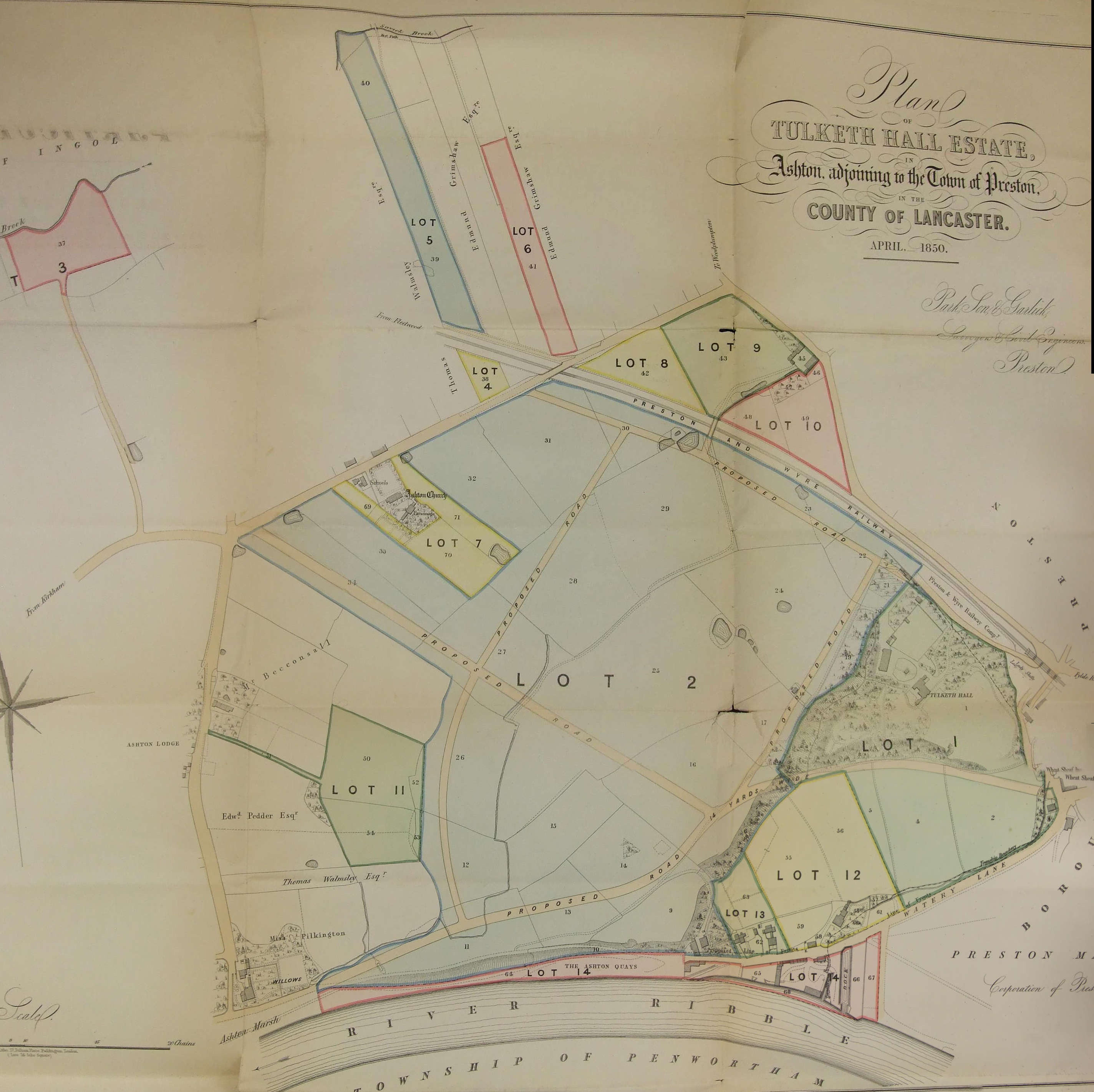 The Tulketh Estate was put up for auction in 1850 and the only around Watery Lane was there any major habitation - all probably caused by the proximity of the wharves on the Ribble.  Cotton mills were built on the edges of the town and dwellings for the workers added.  The image below shows a portion of the Maudland estate.