Slyne Roman Road
We announced in recent issues of our newsletter David Ratledge's discovery of the 'new' route of the Roman Road from Ribchester to Lancaster and our disappointment with the absence of evidence for a Roman road at Forton. We were excited, however, to be contacted by David with an invitation to assist in an evaluation dig on another possible Roman road, this time at Slyne just north of Lancaster.
LIDAR image produced by David Ratledge showing the possible Roman road.

Initially it was thought that there might be limitations on the number of vehicles allowed at the site, so just one car load comprising 4 WAG members met up with David Ratledge and colleagues from the national Roman Roads Research Association and County Archaeologist Peter Iles, on a very misty November morning. A single track lane led to the site, a hillside just outside the village where LiDAR imagery appeared to suggest the presence of an agger, potentially marking the route of the road running from the Roman fort at Lancaster to that at Watercrook near Kendal in Cumbria.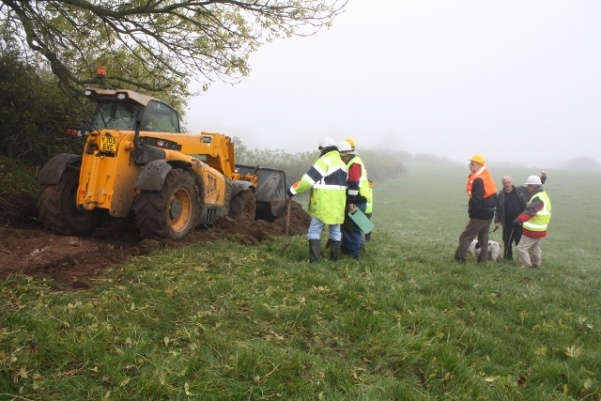 Following much discussion about where to put the trenches we trekked across several fields and over several hills (it seemed) until a suitable location was identified and where the landowner removed a considerable amount of overburden to reveal a cobble-strewn sub-surface. Our experts were initially pretty certain it was road material especially since excavation revealed a kerb-like arrangement of large cobbles but, with no clear indication of the diagnostic v-shaped Roman ditch, the certainty waned as work progressed and at the end of Day 1 it seemed more likely that we had excavated a natural feature.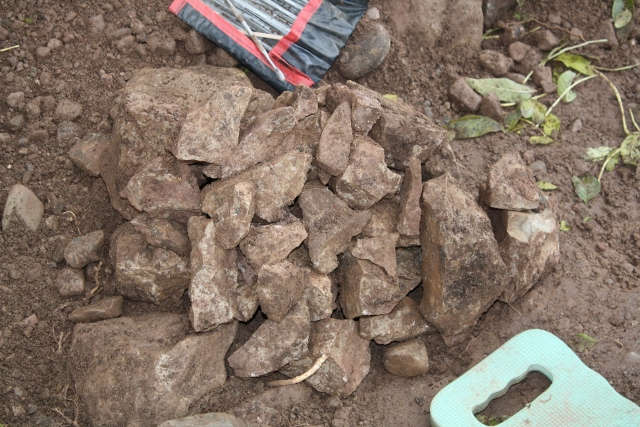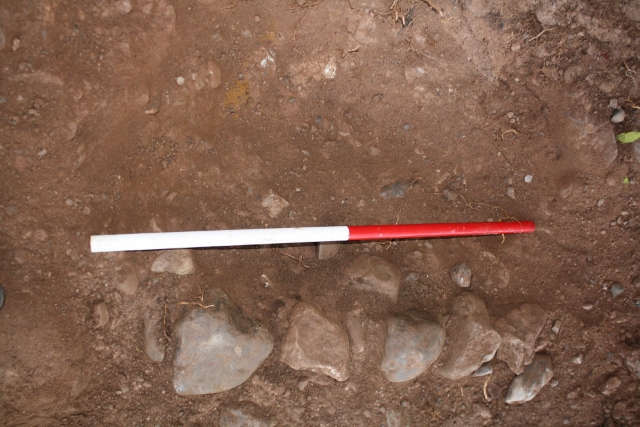 Day 2 was slightly brighter both in regard to the weather and to the dig. An intriguing feature was uncovered consisting of a sub-circular arrangement of large cobbles surrounding a sandstone slab under which was exposed a clay-lined pit filled with many large fragments of white stone, possibly limestone (above). After cleaning the pit which was approximately 1m by 0.5m no further feature or artefact was found. Mike Haken of the RRRA did however suggest that it was about the right size, shape and location for a roadside burial, a common custom! Other WAG members concentrated their efforts at the other end of the trench and at the end of Day 2 had exposed several strata suggesting that a stone building of some sort had been erected on a repaired - but later disused - road surface. It is possible that a partial wheel-rut was identified in the earliest road layer.

Meanwhile David Ratledge and other RRRA diggers were excavating a trench in another field that from LiDAR images appeared to contain an agger. This excavation was less fruitful.

We'll have to wait for the formal report currently in preparation, but there are already plans to return to Slyne next autumn for a more thorough investigation in which WAG members will very probably be invited to take part.