Over Wyre Novels
two novels inspired by the history of the Preesall salt mines
A former Knott End resident has published two novels inspired by the history of the Over-Wyre saltfields.
Professor David Walker, once a pupil at Baines Grammar School, Poulton le Fylde, is a leading international scholar and author of numerous books on modern French literature and culture. But while pursuing a distinguished academic career at the universities of Glasgow, Keele and Sheffield, he never forgot his connection with Knott End on the Fylde coast, where he grew up.
"The countryside, seascapes and shorelines of Over Wyre have always fascinated me," he says. "When I learned about the proposal to store gas in caverns in the Preesall saltfields, I realized there was an underground dimension to the area that I had only been dimly aware of as a youngster."
He did research into the history of the salt mines at Preesall, and discovered it had once been the most productive mine in Britain. "I became fascinated by the story of how this industry had once flourished and then become all but invisible to teenagers like me who lived in the area in the 1960s," says Professor Walker, who recently retired from the Chair of French at the University of Sheffield.
Disastrous collapses in underground brine caverns caused huge sinkholes to open up at surface level, and penetration of water into the main workings created subsidence leading to the closure of the mine and the eventual disappearance of an industry that once employed hundreds of people. The tale of this catastrophe inspired Professor Walker to write his first novel called "Migrating Voids", about the effect of these events on a fictional family living in a historic manor house at the edge of the salt marsh by the river estuary.
"Over-Wyre is often considered something of a sleepy backwater. I'd like to think that my books will help make readers aware of the dramatic past this area has had," says Professor Walker.
The announcement that an American corporation was to be allowed to go ahead with proposals to store gas in caverns to be created beneath the collapsed salt mines gave renewed relevance to the history of this landscape.
"After publishing 'Migrating Voids' I actually began work on a novel set in France," explains the writer. "But news of the sudden death of an old school friend took my mind back to the days when I lived in Knott End. That and the prospect of new industrial activity in the salt-fields provided the germ of a fictional narrative that took over from my other project and led me to engage with the current concerns of the local community."
This new novel is entitled "An Uncertain Shore", and has recently been published.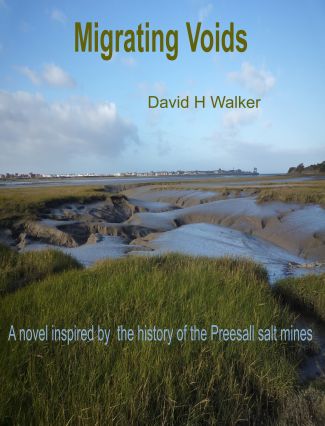 Migrating Voids        First published in 2014
Harkcliffe Hall has stood for centuries at the edge of salt marshes alongside a river estuary. Inside it a widowed, childless woman clings to the name and traditions of the family she married into. She is visited periodically by her brother, a heavy drinker who one evening is driven home from the village pub in an alcoholic stupor by young Gideon Bradshaw, working as a part-time waiter while studying for an uncertain future. Gideon's life changes course as he enters the world of the Harkcliffe estate, is drawn into its historic past and learns of its association with the local salt mines, once the most productive site in Britain. Now, with no heir, the dynasty seems doomed to die out, but Gideon stumbles across secrets that reveal a desperate struggle to avoid the inevitable, while the threat of a catastrophic fate hangs over the Hall.
"David H Walker's ambitious first novel...turns this geological phenomenon into a metaphor for instability and applies it to individuals, generations and social structures.... The drama is generated by slow shifts and small shocks. This unhurried, meticulously crafted novel makes remorseless change another word for fate.'
(Times Literary Supplement)
"Migrating Voids" is available from Amazon as a paperback and as a Kindle e-book.
Amazon UK
Amazon USA
Amazon Australia
ISBN-10: 1499609493
ISBN-13: 978-1499609493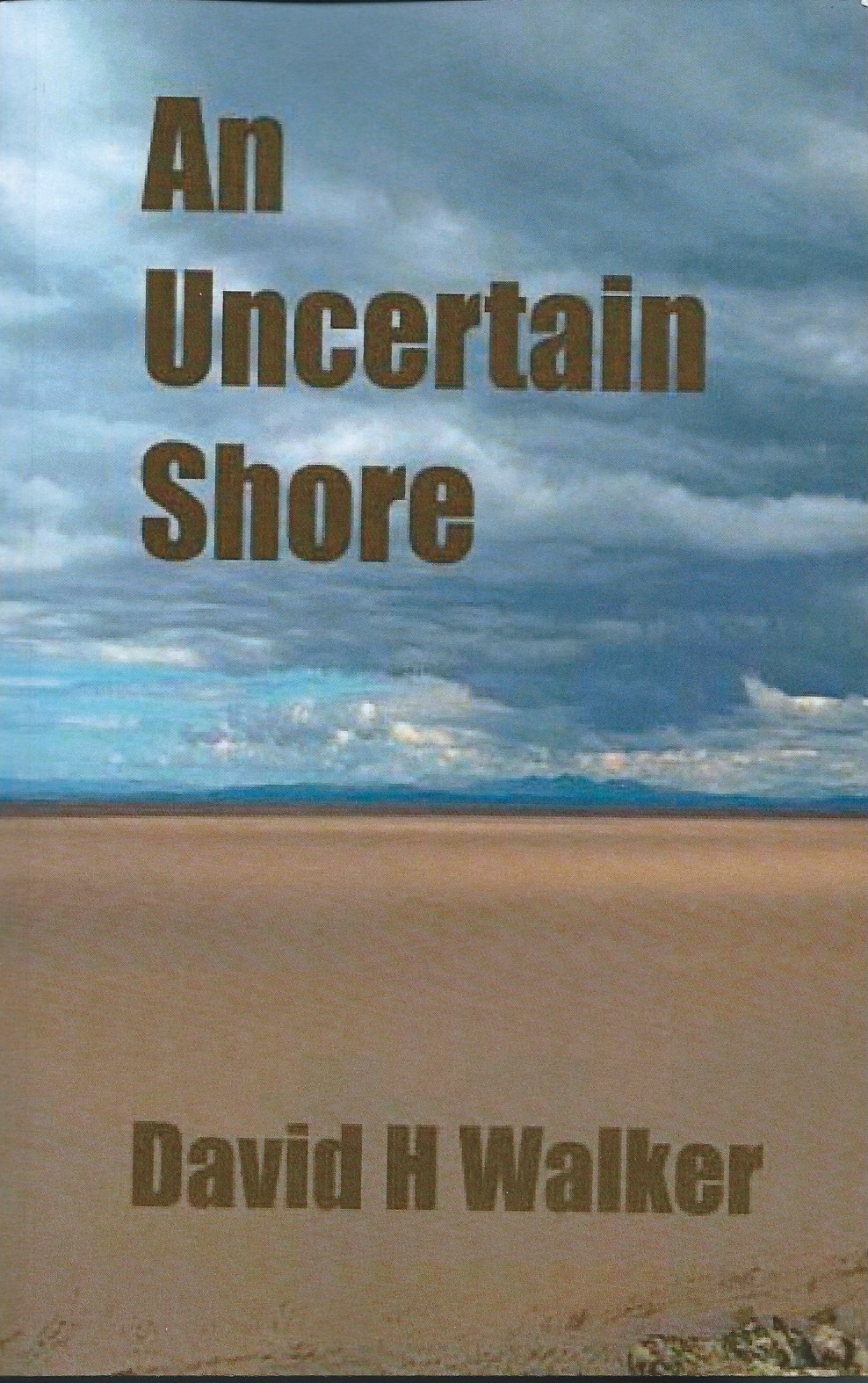 An Uncertain Shore        First published in 2017
The narrator of 'An Uncertain Shore' returns to the coastal haunts of his youth after a traumatic bereavement, hoping to find solace for his grief by reliving elements of his past. He is soon forced to recognize all that separates him from those he once lived among, but he meets a woman painter and is drawn to her and her distinctive art, learning about her background and her ambitions and sharing with her the cause of his depression. He also becomes involved in the schemes of a renegade journalist, bent on defeating a sinister corporation which is proposing to take over an abandoned salt mine and store gas underground, threatening an ecological calamity in the region. The two new acquaintances intersect unexpectedly, with fatal consequences. But these events in turn prove the trigger for a revived campaign against the corporate menace, led this time by the painter and a woman from the narrator's past, who recruits a band of female militants with an unconventional approach to direct action.
"An Uncertain Shore" is available from Amazon as a paperback and as a Kindle e-book.
Amazon UK
Amazon USA
Amazon Australia
ISBN-10: 1979948194
ISBN-13: 978-1979948197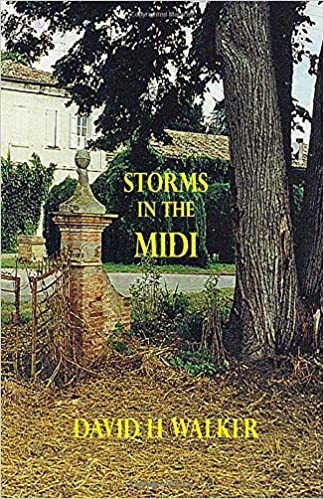 CoverStorms in the MIDI        First published in 2020

David's third novel, Storms in the MIDI, is set in South-West France at the start of the twentieth century. The wine-growing industry has survived the phylloxera epidemic that devastated the vineyards, only to find itself threatened by a new calamity. Louis Rives, a researcher from the prestigious School of Agriculture at Grignon near Paris, has been recruited by Olivier Gaudart, a landowner with political ambitions, a mercurial temperament, and a plan to solve the wine-growing crisis by promoting modern scientific methods. But it will take more than scientific know-how to cope with the situation Louis finds himself in.

About the Author
David Walker is Emeritus Professor of French at the University of Sheffield. He is an internationally recognized specialist and author of numerous books on the literature and culture of France. He is a keen cyclist, and the Tour de France starting in Yorkshire offered him an opportunity to combine two passions: he can be viewed online here.
"An Uncertain Shore", like "Migrating Voids" his first work of fiction, is inspired by the region where he grew up on the Fylde coast, in north-west England.
This email address is being protected from spambots. You need JavaScript enabled to view it.