Skippool
One area of interest, historically, is Skippool. Over the years it has been suggested that it could be, without a lot of evidence, the famed "Portus Setantiorum" so it is an area that warrants investigation.  Unless we discount mooring out on the Wyre estuary (or flat bottomed boats) the only obvious places of anchorage would seem to be Skippool or Wardleys.  The origin of the word "Skippool" is probably from  Old Norse skip meaning ship and Old English pull/pol  for a slow moving stream.
Roman
From a local paper dated 18/07/1873 we have
A short time ago there was discovered at Skippool, on a site where the Roman Road is supposed to have been, a second brass coin of the Emperor Trajan in very fine condition. The obverse side bearing the following:
TMP. NERVA. CAES. TRAJAN. AUG. GERM. P.M. and on the reverse: OPTIMUS PRINCEPS.
Also according to the Blackpool Herald, 30/9/1887, several bronze coins of Nerva found at Skippool.
More recently one of our members has, whilst metal detecting in the area, discovered 2 Roman coins.  These are shown below:-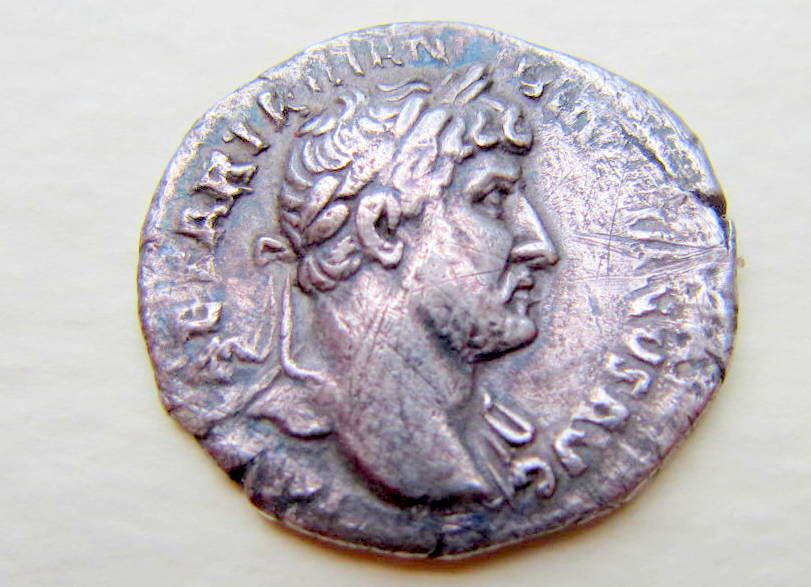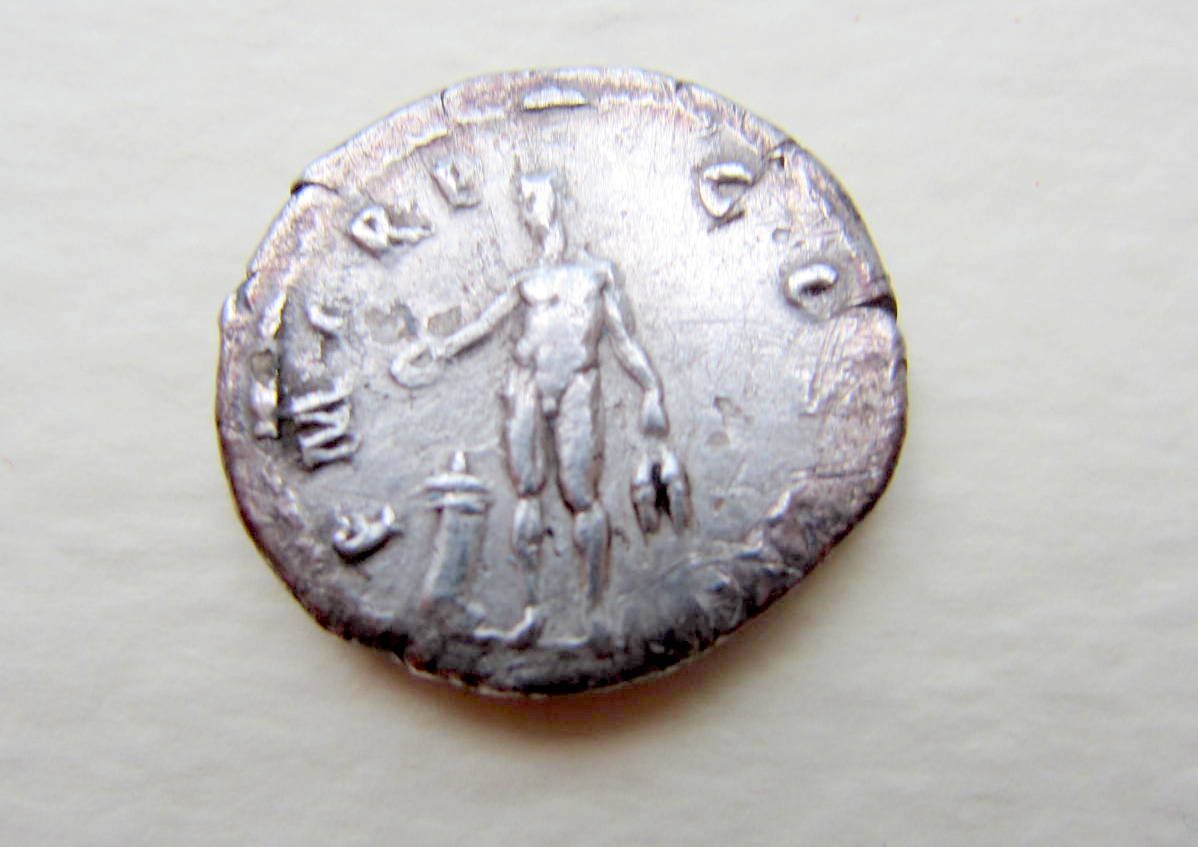 Denarius of Hadrian(Emperor 118-138AD). This coin was minted in Rome in 122AD according to David Shotter. Found in 2009 in the field by Skippool yacht club and about 100 yards from the river. The reverse is "Genius", the Roman god of manhood.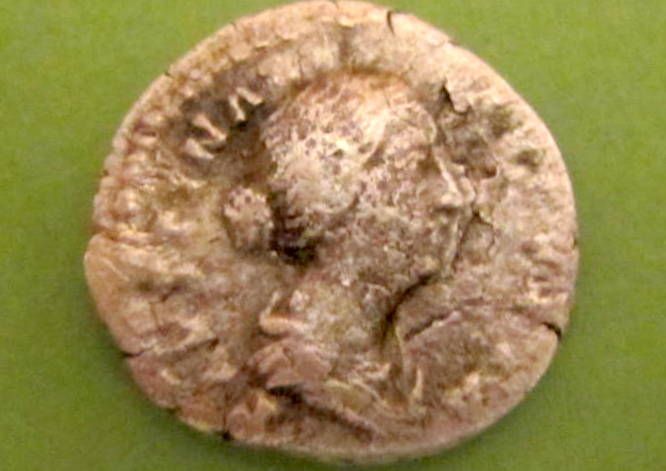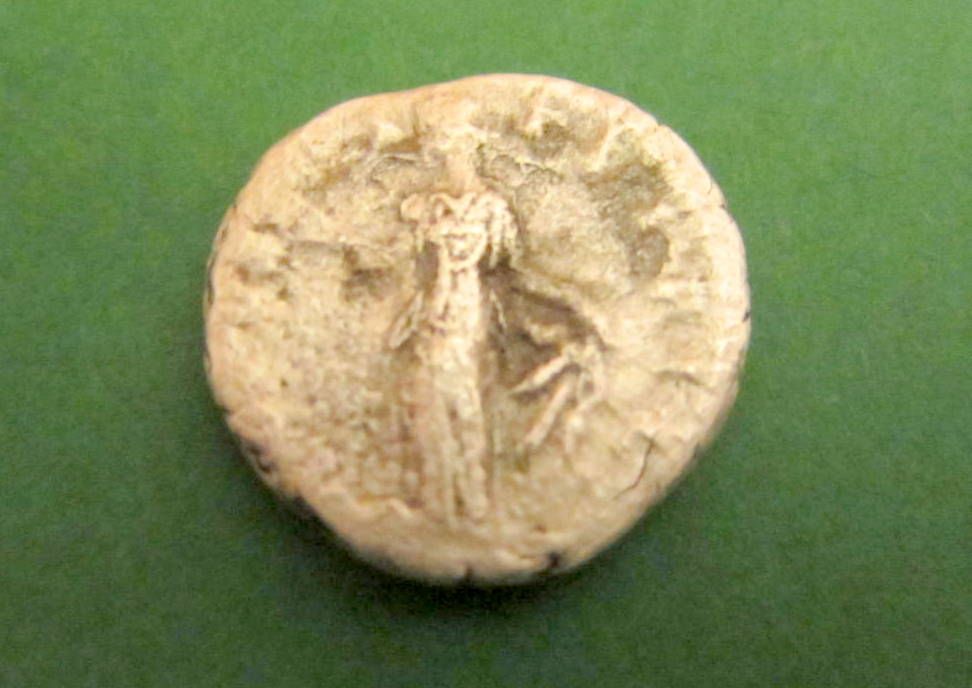 Denarius of Faustina Minor(in circulation 145-175AD), daughter of Emperor Antoninus Pius (138-161AD) and wife of Marcus Auralius (Emperor 161-180AD). Found in a field some 300 yards to the north of the yacht club and about 150 yards from the river. The reverse is "Spes", the Roman goddess of hope. Both of these coins are silver. According to David Shotter's book "Roman coins from north west England", at least two other Roman coins have been found at Skippool, including one of Mark Anthony when he was a pro-consul around 30BC, which pre-dates the Roman invasion of 43AD by some 70 years. So it was either brought in by traders, or by a Roman from 70AD onwards after they moved into this area.
The question to be asked "why are they there?"  Estuaries have always been a convenient way of getting troops from one place to another and the Fylde, 2000 years ago, would have been a boggy place.  The other point of view, considering that various hoards have been found at Hackensall and Rossall, is that there was a major Roman site in the vicinity.  The only problem with this idea though, is that it has never been found.
Early Maps
The earliest map that mentions Skippool is Speed's map of 1610.  Unfortunately it gives little details apart showing the river as Skippon Flu (from 'Flumen' Latin for 'river').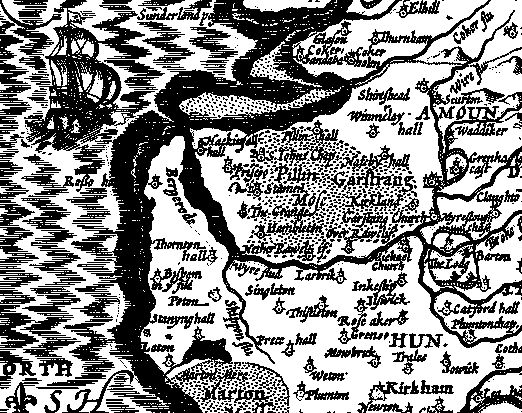 Slightly more detail is given in Yates' map from 1787.  The modern spelling of Skippool appears here.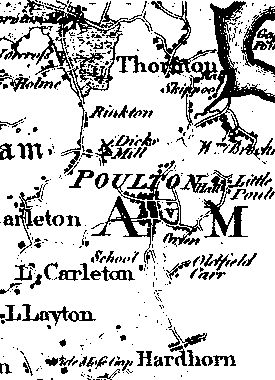 Port of Poulton
This "port" in this situation would probably mean Skippool or Wardleys but the favourite would be Skippool.  In terms of written records there is a late start. 
It has often been said (for instance in Porters "History of the Fylde") that Poulton had a customs house in 1708. A little bit of research takes this back slightly
Disposal of money for maintenance of bastard of Thomas Nosworthy, Collector of customs, and Ann wife of Edmund Hankinson. QSP/907/16 c1704
This can be taken even further by use of Pipe Office: Roll 947. 26 December 1706 to 25 December 1707
In this there is the section
for the new subsidy ending 1 Feb. 1699–1700: Poulton (Thomas Nosworthy) £15 5 2.25
 Or taken back even further in the Sacrament Certificates (Lancashire Records Office QSJ/8/18/32) for the 5 Oct 1684
Contents:
Lancaster. Christopher J'ans, gent., "Surveyor of his Majesties Customs in the port of Lancaster and Poulton." Witnesses. Thomas Simpson of Torrisholme, gent., and John Rimington of Lancaster, yeoman.
In the online British History for 1684 we have
Christopher J'ans (one of the surveyors in the Isle of Man) to be established as surveyor in Lancaster port at 40l. per an. salary, and to keep a horse and to survey Poulton port, and another boatman and tidesman to be nominated: all as proposed by abovesaid Kirby in his survey of Lancaster port and by Jno. Foster, collector there.
As an aside it looks like Christopher J'ans died before 1691 as another "landwaiter" took over the place of Christopher J'ans, deceased, in Hull
If we go further round to the Port of Lancaster is concerned, in 1680 we have
James Crosfeild as waiter and searcher at Broadfleet, in Lancaster port, loco John Hind, lately deceased.
And Broadfleet is the outlet from Pilling - so perhaps their custom duties also went around into the Wyre
In, what appears to be a thesis deposited in the LRO, "17th Century Poulton-le-Fylde" by J.W.Locke the author has examined a number of 17th Century will from Poulton.  Amongst those examined were those from James Hull ~ 1660, who had:-
- part of a barke - £22 - part of a small boat - £2 10s. 0d.
Robert Tinckler (who was described as a mariner) had:-
- a vessell called "The Eagle" worth £54 and - a vessell called "Godspeed" worth £34.
As a comparison, 2 cows, 1 heiffer and a calf were worth £7 15s 0d.
James Hodgson (probably shortly before he died in 1669) invested £60 in the building of a barke.
Slavery
Most local histories name Lancaster as the main slavery port in the area but analysing Lloyd's Lists another possibility.  Between 1747 and 1752 the name Poulton appears 5 times as an arrival port from Barbado[e]s. ie
Tuesday 20th October 1747 ...  Betty & Martha, Carter...Poulton

Tuesday 24th May 1748...Ap. Mary, Allenby... Poulton

Friday, 29th November, 1751...Thomas, Mucket...Poulton

17th April, 1752...Industry, Kilner... Poulton

Friday, 22nd September, 1752...Lilly, Montgomery.
Then there is a big gap, Poulton only rarely being mentioned.
Two Sisters, Poulton arrived from Virginia/Antigua - 4th June 1793 
A 1763 manifest for this vessel (or one of the same name) can be examined at Lancashire Archives (DP/448/18).  The skipper and 5 crew are named - obviously not big enough to be a slave ship.  
The overall impression is that it is unlikely that Poulton/Skippool was involved in the slave trade.  Although the data is incomplete there appears to be no obvious slave-owners in the Poulton area.  See https://www.ucl.ac.uk/lbs/
Skippool Mill
The first map of the area was the so-called "Strip Maps" or "Kuerden Maps".  From some of the names found on the Preston portion of the maps these would appear to have been produced around 1683/4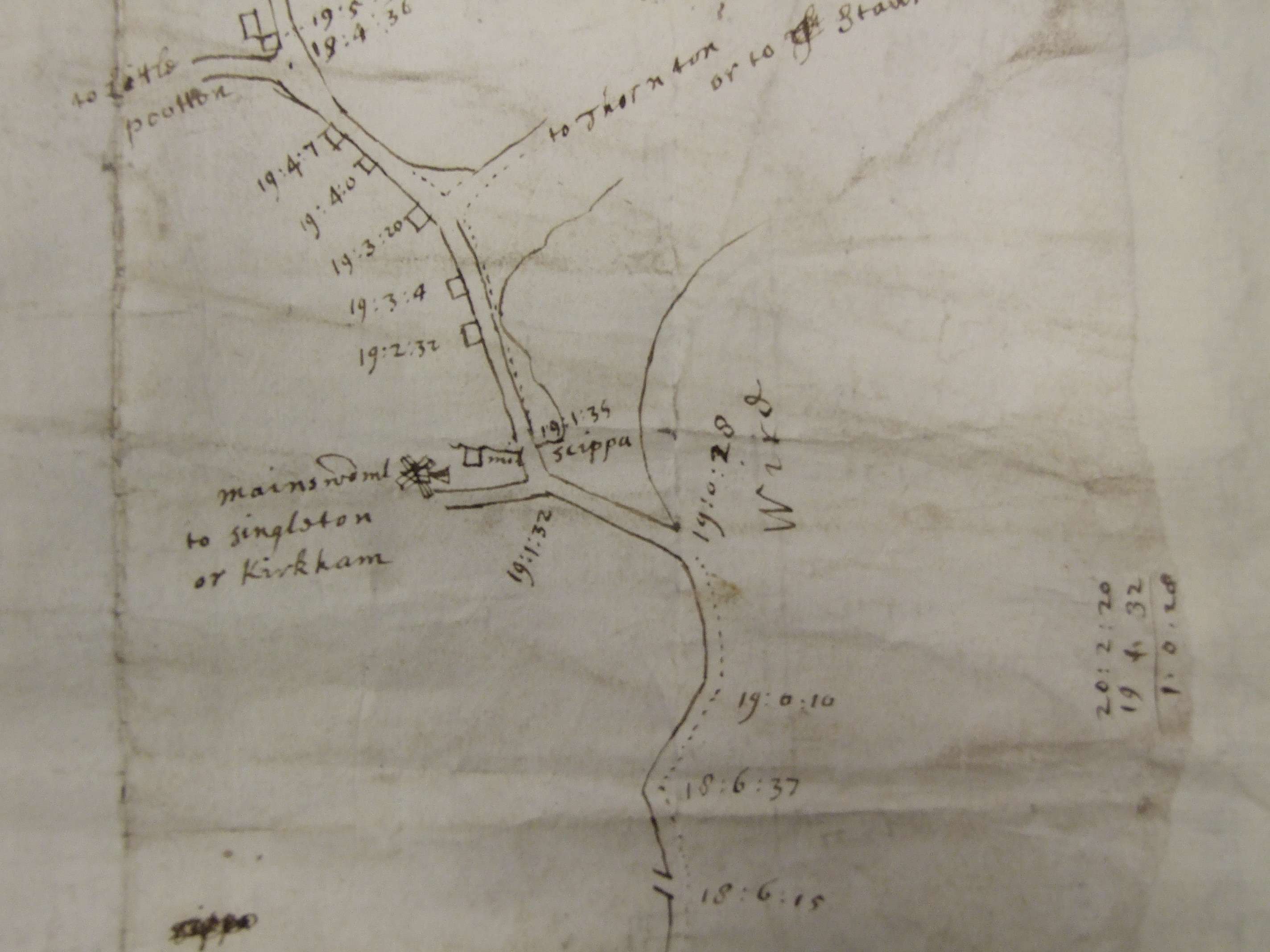 The mill on this map appears to be a windmill.  There is a will for Nicholas Rigby (1734) who was described as a miller of Skippool.  It contains no mention of if it was wind or watermill.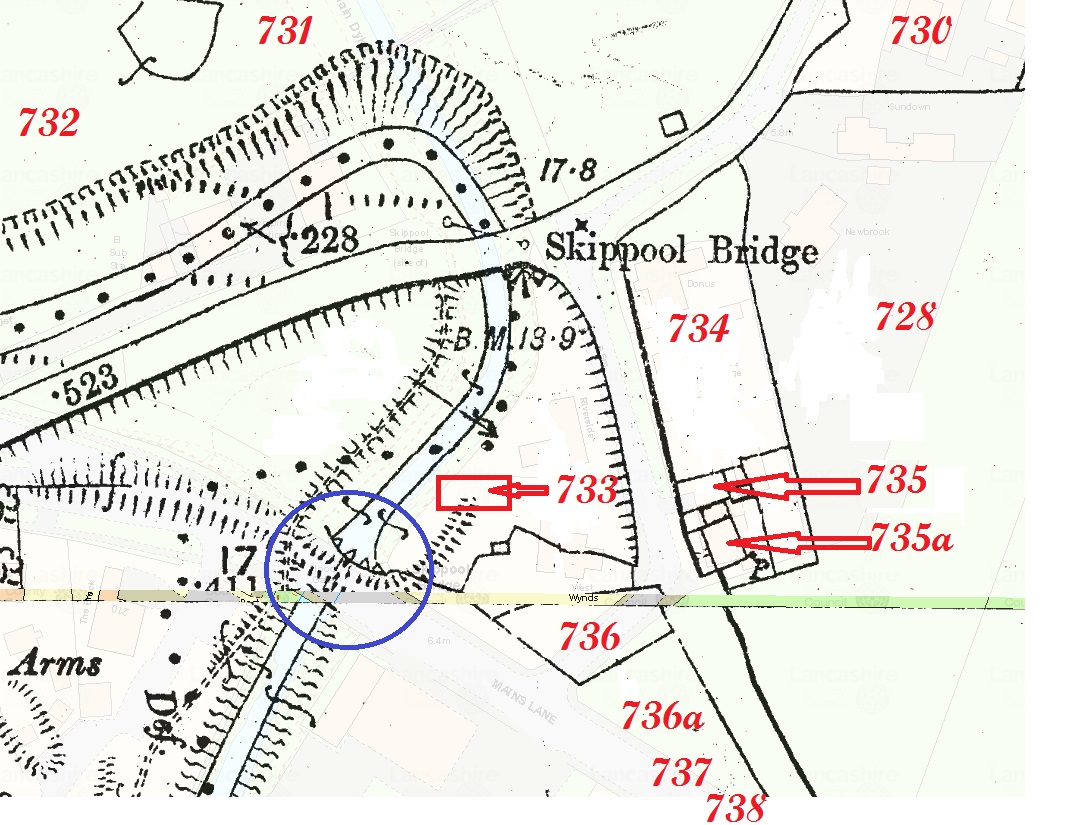 This tithe map is of the Singleton area in the 1839 shows a number of interesting features. The area circled shows the dam/weir used to control the water for the mill.
728 - Higher Kiln Field
730 - Wood Yard & Stable
731 - Marshes & Wood Yard
732 - no description
<p">733  - Skippool Mill Kiln Waste
734 - Waste enclosed from Road
735 - Cottage
736 - Mill Hill
736a - no description
737 - Garden
738 - House Outbuildings Garden & Fold
Most of the area seems to be under the ownership of Thomas Fitzherbert Brockholes.  The Fitzherbert Brockholes records (DDFZ) in Lancashire Archives might provide a fruitful source of more background information.
Looking at the first OS maps of the area we have.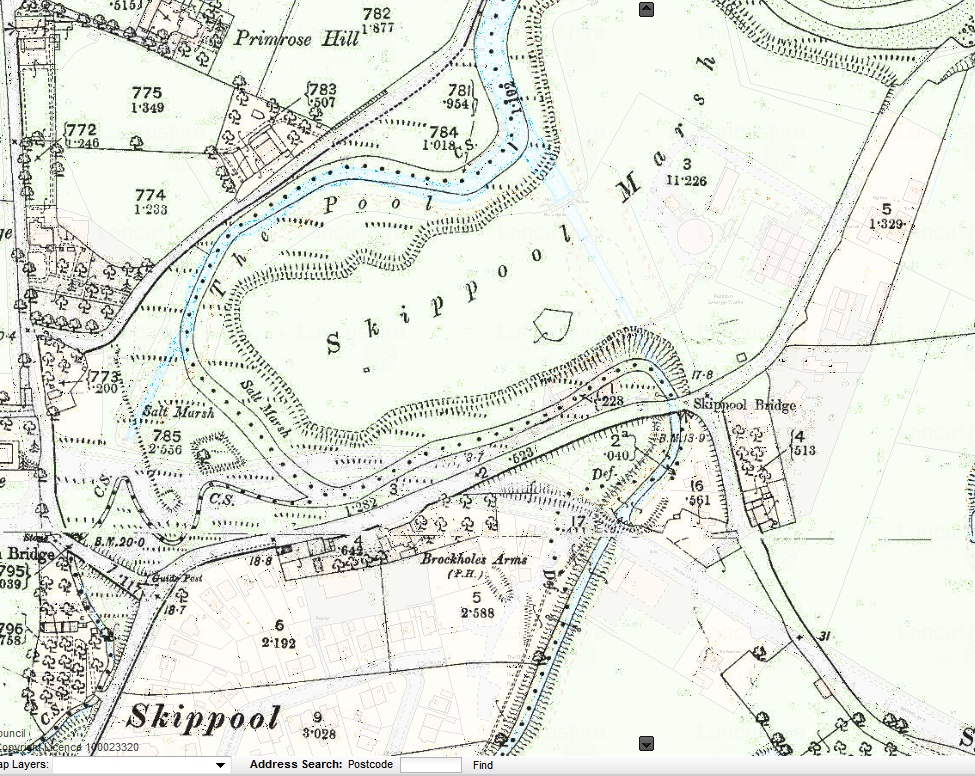 The mill is mentioned in several newspaper articles.
From the 28th December, 1850
In this flat country there is sometimes difficulty in getting an outfall for the drainage; but besides that material difficulty, there is an artificial obstruction at a place called Skippool, where the proprietor of a small meal-mill has the power of damming up the water to turn his mill, and in this way actually keeps up the drainage and sets back the water over several hundred acres of valuable land.  It would appear that the neighbouring proprietors and their tenants, who are injured by it, have no power to compel the removal of this obstruction, and negotiations for the purpose of buying the privilege have hitherto failed.  After a clean bare fallow the crop of wheat yields from 24 to 28 bushels and acre; 36 to 40 of beans are reckoned a full crop.  From the level character of the country it is exposed to severe cold winds. On Mr. Begbie's farm boarded hurdles are erected to shelter his own flock, which are kept for the supply of lambs to the coast villages, whence there is an excellent and increasing demand during the sea-bathing season. Two-thirds of the Fylde district are still undrained, and comparatively unimproved.
More details about the mill are contained in the proposal to let.
TO BE LET, BY PROPOSAL,
For a Term of Years,
And entered upon on the 1st of May next,
All that desirable WATER CORN MILL, called "Skippool Mill", in Singleton, in the County of Lancashire, together with the COTTAGE and OUTBUILDINGS occupied therewith.
The Mill is situate about one mile from the Poulton Station, on the Preston and Wyre Railway, and contains two pairs of French Stones, one pair of Meal Stones, one pair of Shelling Stones, Groat Machine, Flour Machine, and other requisite Fixtures.

February 2nd, 1850.