Three-hundred-year-old Field Survey notes in the Lancashire Record Office (DDX194)
A collection of fifty three foolscap sheets of hand-made paper, complete with watermarks approximately 17 inches by 13.25 inches, is kept in the Lancashire Record Office under Ref. DDX194 showing road surveys, written in ink, taken in the field. Mr. W. H. Proctor of the Towneley Hall Committee deposited the documents at the LRO in 1952 after being found in the basement during cleaning operations at Towneley Hall, Burnley. The reason why these documents turned up at Towneley Hall is a mystery, but there may have been a link between the surveyor and Christopher Towneley who were contemporaries.
The strip maps of many roads in the western half of Lancashire marked distances, road junctions and rivers in the way John Ogilby had done in his Britannia published in 1675. The field sheets for Lancaster and Preston town plans gave the name of the occupier of every house, cottage and inn and the measurements and angles from which the town plans could be prepared. The measurements for the town plans were in links of 7.92 inches (they were 100 links in a surveyor's chain 22 yards long, i.e. 792 inches). The roads were measured in statute miles (1760 yards displacing longer customary measures), furlongs and poles, using a hand pushed wheel dimensurator which indicated on dials the exact distance travelled. The reading was set at zero at the commencement of each stage.
The most important pieces of information missing from this collection were the name of the surveyor and the purpose of the project. The Lancashire Record Office1 says that they were "led to believe that they were drawn by Richard Kuerden since they coincide with a detailed description he wrote of Preston". Richard Kuerden collaborated with Christopher Towneley in creating the "Towneley Transcripts", in readiness for publishing a full history of the county, which unfortunately, due to Towneley's death, was never produced. A prospectus was distributed amongst his friends in July 1688 wherein it appeared that he had obtained some money from some of the gentry in Lancashire and elsewhere for printing this work, which however, was never published.
Some of Kuerden's manuscripts are held at Chetham's Library, Manchester. Dr. Kuerden was born in 1620 at Kuerden Hall, south of Preston and was educated at Leyland. He went to Oxford University to read mathematics and Hebrew but was driven away when he was eighteen and went to Cambridge for four years. He later took an MA degree at Oxford and became a vice-principal and tutor. In 1661, after further study, he was sworn Doctor of Medicine and in 1662 he became an M.D. He then left the university life and came home to Kuerden and there practised medicine. In his leisure hours he studied antiquity and through his interest met Charles Towneley of Carr Hall who gave him assistance in abbreviating records. Dr. Kuerden was aged about sixty-five when this long and arduous survey, from Warrington to Windermere and back, was carried out and he died in poor circumstances in 1702. It is doubtful whether he had the mathematical or surveying skills, or even the physical stamina, to carry out this project. His handwriting is vastly different from that shown on the maps.
Another school of thought is that held by some learned local historians who refer to the collection as "Spy Maps". This theory developed because the plans showed large numbers of family names and the places where they lived which they believed was to be used by the Jacobite cause. But the Christian name of James is listed many times and not once is its Latin equivalent of Jacobus used. Even an entry of "James ye 2nd" is written on sheet DDX194/26. Another idea was linked to the Quakers whose members from a large area were being imprisoned at Lancaster Castle for nonconformity. The maps would guide visiting families to the prison, but so would existing Ogilby maps. No evidence can be found to support either of these theories.
So what evidence do we have to trace the surveyor:-
i. He was skilled and very accurate in the taking of linear measurements
ii. The compass readings were accurate to one sixth of one degree
iii. He had a good command of the English language (in most cases his spelling was taken phonetically and hence local pronunciation of place names 300 years ago can readily be worked out)
iv. His use of long division, multiplication and setting of simultaneous equations on the maps gives clear indication of his mathematical ability
v. All angles measured and recorded were in degrees and minutes
vi. The telescope on his theodolite could focus accurately on objects such as houses, castles, pele towers and the like up to distances of 10 to 12 miles
vii. Various capital letters and the word King appear in odd places on the maps almost as if the surveyor was practising calligraphy
viii. Some of the partially finished maps show a marked similarity to the Ogilby maps in that each mile is numbered with dots for every furlong in between each mile
ix. The project appears to have been abandoned and never completed.
A search began through "Dictionary of Land Surveyors and Local Cartographers of Great Britain and Ireland 1550-1850 edited by Peter Eden". Of the hundreds of entries, two stand out to be of special interest.
Page 55, entry No. 126:- KING, Gregory I; b.1628, d.1682; of Lichfield, STF, diallist; (a maker of sundials) Father of Gregory King II
Page 55, entry No. 127:- KING, Gregory II; b.1648 d.1712 MDX; estate; herald; educ. Lichfield STF G. S; son Gregory King I by whom he was trained; B.M.Cat., Dict. N. B.
The British Library in London was asked to compare the handwriting on the plans with Gregory King's handwriting on other documents in their possession and they replied that in their opinion it was more than likely the writing in both cases was by the same hand.
Gregory King - his education and career
Gregory King was the eldest son of his father Gregory King by Elizabeth his first wife, daughter of Mr John Andrews of Sandwich, whom he married in Kent on the 13th January preceding the birth of their first born on 13th December 1648.
Gregory I was born in Leicester where his ancestors had lived for some generations. He was the son of Thomas King who, having only two sons Gregory and Thomas died when Gregory was only seven years old. However Thomas left him "a fair house, garden and orchard without the North Gate of the town" which he sold in 1648 a little before the birth of his son Gregory II. The father, an accomplished mathematician, gained a livelihood by navigational gunnery, surveying land, laying out ornamental gardens and dialling (making sundials for the ornamental gardens, churches etc), but his habits were irregular and his income precarious.
Dialling treats the construction of sun dials either fixed or portable. During the 17th century dialling was a special branch of education. In the 18th century clocks and watches began to supersede sundials and the latter gradually fell into disuse, except dials in a garden or in a remote country district. Old dials on some church towers still serve as an occasional check on the modern clock by its side.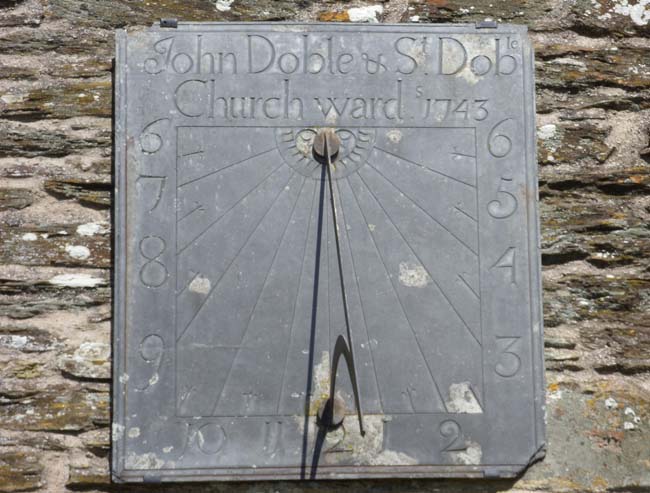 The picture shows the sundial on the tower of St Rumon's church at Ruan Lanihorne, Cornwall dated 1745. One incumbent was Rev Whitaker well known for his book The History of Manchester published in 1775 before he was banished to Cornwall. During the Civil War portable sundials were in regular use by both armies. Navigational gunnery, i.e. graduated scales on the guns indicating elevation and direction, provided an income for a limited period.
Gregory, the son, became clerk to Mr William Dugdale (only son of John Dugdale of Shustoke, Warwickshire and grandson of James Dugdale of Clithero), Norroy King of Arms, by recommendation of Dugdale's friend Dr Hinton of Lichfield. His parents readily consented as they had five other children to provide for although Gregory, for the previous two years, had been little charge to them. Although only twelve years old he undertook survey or measurement of land when his father was otherwise engaged.
He had excelled under Thomas Bevans, the headmaster at Lichfield grammar school, in mathematics, latin, greek and hebrew. The Rt. Rev. Bishop of Lichfield, Dr Hackit, had hoped to send him to university in the autumn of 1663, but instead he joined Dugdale in 1662 at the end of December at the age of fourteen. This was his first step to his future advancement in the College of Arms. With these qualifications and an inclination to draw (he drew the King's Arms in his schoolbook when eight years old) he went into the world under the tutelage of that noted antiquary and indefatigable writer William Dugdale. Dugdale was at first Blanchlyon then Rougecriox and later Chester Herald before the Civil War. He was made Norroy King of Arms on the restoration of King Charles II and went to live at Heralds' College. In 1677 he was created Garter Principal King-at-Arms and knighted. He died at Blythe Hall on 10th February 1686, aged 81.
The great northern antiquaries were all intimately pursuing one common object. Although Dodsworth had passed away and Rushworth was in London yet Christopher Towneley of Moohiles near Coln, Dr Richard Kuerden of Preston, Dr Theophies Howarth of Howarth near Rochdale and Dr Leigh, a young man, were Dugdale's personal friends. Whilst John Hopkinson and Dr Nathaniel Johnson were in the adjoining county of Yorkshire both of them were his allies. Henry Johnson of Pontefract, the doctor's brother and formerly a Benedictine monk, was retained by Dugdale as his clerk when Gregory was made redundant in 1667 at the age of 18 years.
Between 1667 and 1669 King was in the service of Lord Hatton, who was forming a collection of the arms of the nobility. In 1669 he returned to Lichfield where he supported himself by teaching writing and arithmetic, by painting hatchments, signs and coaches and by giving instruction in the decipherment of ancient records. He also transcribed the family muniments of Walter Chetwynd of Ingestre. Celia Fiennes whilst visiting Ingestre Hall church in 1698 noted that "the porch is very high on which is a dyal, it almost breaks ones neck to look up at it". At the end of 1669 he became steward, auditor and secretary of the Dowager Lady Gerard of Gerard's Bromley, widow of Charles and mother of Digby, Lord Gerard. He resided with the lady's father at Sandon, Staffordshire until August 1672 3.
In August 1672 at the age of 23 he moved to London where he renewed his acquaintance with Mr Lee, Chester Herald, Mr Sandford, Rouge Dragon and others at the College of Arms, after first waiting upon Mr Dugdale. He also visited Mr Hollar, the eminent etcher, who recommended him to Mr Ogilby to manage his undertakings. Wenceslaus Hollar, etcher and engraver, was born in Prague 13th July 1607 and died in London 25th March 1677; he was buried in St Margaret's Westminster churchyard. He was a pupil in Prague of A. Sadeler. In 1627 he went to Frankfurt and was apprenticed to M. Merian; in 1629 he set up for himself in Strasbourg and moved to Cologne in 1633. Lord Arundel passing through Cologne in 1636 engaged Hollar as his chronicler-artist, taking him to Vienna, Prague and back to London in 1637. Hollar was lodged in Arundel house where he engraved pieces of the Arundel collection. Hollar was made drawing master to the Prince of Wales and later was in the service of the Duke of York. But the Civil War frustrated his hopes of large court patronage. Hollar went to Antwerp in 1644 a year after Arundel and stayed till 1651. In 1652 he returned to England but was arrested as a Royalist. Released through the influence of William Dugdale he stayed with W. Fairthorn.
Holler now illustrated John Ogilby's Virgil, Homer and Aesop publication, began the plates for Dugdale's Monasticon and St Pauls and made his "Plan for West Central London". His life was one of increasing poverty and drudgery. The fire of London in 1666 prompted Hollar's plans and views of the City after its destruction, following which he was appointed scenographus regius. In 1668 the King sent him as official draughtsman with the expedition to Tangier. Back in London, Hollar continued his drudgery. Among his last plates are those for Francis Sanford's Geneological History…, Dugdale's Monasticon. The most important side of Hollar's varied production is his landscape etchings, for he maybe regarded as the true founder of English Landscape drawing
John Ogilby had the King's licence to print all things of his own composition or translation. He kept a press in his house in Whitefriars and under the name of Leyburn, and also printed many other works. He was at that time printing Sir Peter Leicester's antiquities of Chester for which some old seals had to be engraved. Gregory King made his first attempt in etching upon them and was successful. When Ogilby was reprinting his folio edition of Aesop and reducing sculpts (carvings on wood or copper) to that volume, Gregory King etched several of them, as he did some of the sculpts in Volume I of the History of Asia then printing at Ogilby's.4
John Ogilby having projected a "New Britannia" designed the same in three volumes: one to treat the roads of England, another the rivers and the most remarkable things near to them, and the third the towns. Only the first was published in 1675 the year before he died and was titled "Britannia, Volume the First: or, an Illustration of the Kingdom of England and Dominion of Wales: by a Geographical and Historical Description of the Principal Roads thereof. Actually Admeasured and delineated in a century of Whole Copper-Sculps" He had made a start in the measuring of roads and was just engraving the counties of Middlesex and Kent. He had, recently, engaged a gentleman, Mr Falgate of Essex, to survey his native county. Gregory King travelled along with Falgate, assisted him therein and collected divers notes out of individual churches and other matters of record in order of historical interest. In the middle of winter 1672 in very severe weather they made up maps of Ipswich in Suffolk and Malden in Essex, which were highly detailed.
When Gregory King joined Ogilby he found Mr Leyburn newly engaged in making a map of London and saw the scale was 50 feet to 1 inch and yet particularised nothing but only the streets and lanes. King formed a new project of that survey at 100 feet to 1 inch and expressed the ground plot of every individual house and garden. He finished two plates of twenty himself and ordered the carrying out of the rest of the work which was finished and etched in copper by Hollar.
To carry out these designs of Ogilby great sums of money were required, so Ogilby projected a lottery of books printed and published by him, assisted and managed by Gregory King. The latter also framed for Ogilby a lesser lottery of books for Bristol fair at the feast of St James [25 July] 1673, which turned to good account.
During this time Ogilby, employed many surveyors under King's direction, to measure the principal roads of the kingdom and to collect historical notes as they passed along. King alone digested these notes and directed the engraving of the plates, engraving three quarters of them himself as a first attempt at handling the graver.
Ogilby was very aware of Gregory King's great assistance and was very kind to him. He paid for his violin lessons and offered to renew the patent of his place of Cosmographer to the King. He wished to put Gregory King into his business jointly or in reversion but Gregory declined that proposition. Ogilby then proposed to Gregory King to undertake wholly on his own account the survey of Westminster on the same scale as that of London, viz. 100 feet to 1 inch, which King accepted and taking Mr Falgate as his assistant completed the same in about twelve months' time. John Ogilby died on 4th September 1676 aged 76.
The survey being undertaken in the spring of 1674 occasioned King to take lodgings near the middle of the work. He fixed on one in St James Street, on the SE corner of the Piazza, Covent Garden, at Mistress Powel's whom he married on 2nd July 1674. She was of a gentleman's family in Gloucester being the daughter of Mr John Powel of Tirley in the parish of Forthampton, descended from the Powels of Denbighshire.
The survey of Westminster being finished, from 1675 to 1680 onwards, King took to engraving the letter-work on maps including Mr Adams' great twenty-sheet map of England and six sheet map of Alsatia, among others. He compiled a portion of Francis Sandford's Genealogical History of the Kings and Queens of England while his friend, the author, was prostrate with illness.
London was indebted to Gregory King for the layout of streets and squares in Soho Fields. Soho Square was formerly called Kings Square and Rimauld suggests that Greek Street, formerly Grig Street, was so called after King's Christian name. He drew up many of the first building articles or leases in various parts of London.
Gregory King was a man of remarkable versatility. As a surveyor and artist he was outstanding. As a herald and genealogist he was the equal of his master Sir William Dugdale, and as a statistician he surpassed Sir William Petty.
It is said that Sir William Dugdale deputed to Dr Kuerden at one time to visit the gentry of Lancashire respecting their coats of arms, and either to consummate or disclaim publicly at the assizes held at Lancaster their right and title to such bearings, which the doctor performed accordingly. It is likely that Dr Kuerden and Gregory King became acquainted at this time.
Work in North West England
There is little doubt that Gregory King on his travels as herald would see hatchments hanging in the churches he visited. Hatchments were coats of arms with shield, helm and crest, supporters and motto painted on canvas and mounted in a lozenge shaped frame as a mark of mourning when a nobleman or gentleman died. They were mounted outside the family home for up to a year then they were moved into the parish church. There were painters about in the country that specialised in this type of work and were called in some places "deputy heralds". There were also some Kings of Arms from the College who were insistent in their demands for accuracy in these paintings, and had the powers to take down and deface which they regularly did.
One such "deputy herald" was Randle Holmes, brother-in-law to Richard Kuerden and friend to both Mr Lee the Chester herald and Gregory King. It was in 1669 when King decided to support himself by painting hatchments amongst other things that he came to Chester for a consultation with Randle Holmes.
It seems likely that when Dr Kuerden was collaborating with Christopher Towneley in readiness for a full history of the county they would need the services of a surveyor. Who better could they invite than Gregory King a close friend of Randle Holmes? There was a Charles Towneley, Norroy King of Arms in the reign of George I and another of the same name was Lancaster Herald in the reign of George III. We know that Christopher Towneley of Carr Hall died in 1674 and that Dr Kuerden wrote his History of Preston between 1681 and 1687 and put out a prospectus in 1688. Although the town plan and the road maps were nearly complete it looks as if the project was abandoned. The partially finished work was handed to the Towneley family, when Kuerden died in 1702, where it was discovered in 1952. This survey of west Lancashire roads was carried out between September 1684 and September 1685 when John Kellet was mayor of Preston. Since the words "James ye 2d" is written on sheet DDX194/26 it is likely that it took place after February 1685. Charles II died on 6 February 1685.