Danes' Pad Enigma
This is another one of the enigmas that circulates around the archaeology of the Fylde. According to various antiquarian sources (in particular William Thornber and John Just), it was a path curving round from the Roman fort at Kirkham through to Poulton-le-Fylde and possibly beyond. Over the years many groups, including WAG, have searched for definitive proof. There have been glimpses of possible roads but nothing that would shout "we've found it." Back in 2005, members of WAG excavated a trench south of Wyrefield Farm and Rossall Road but nothing conclusive was found. There have been many debates on the original Wyre Archaeology forum on this topic and it will run and run. Unfortunately, as our group secretary is fond of saying "absence of proof is not proof of absence."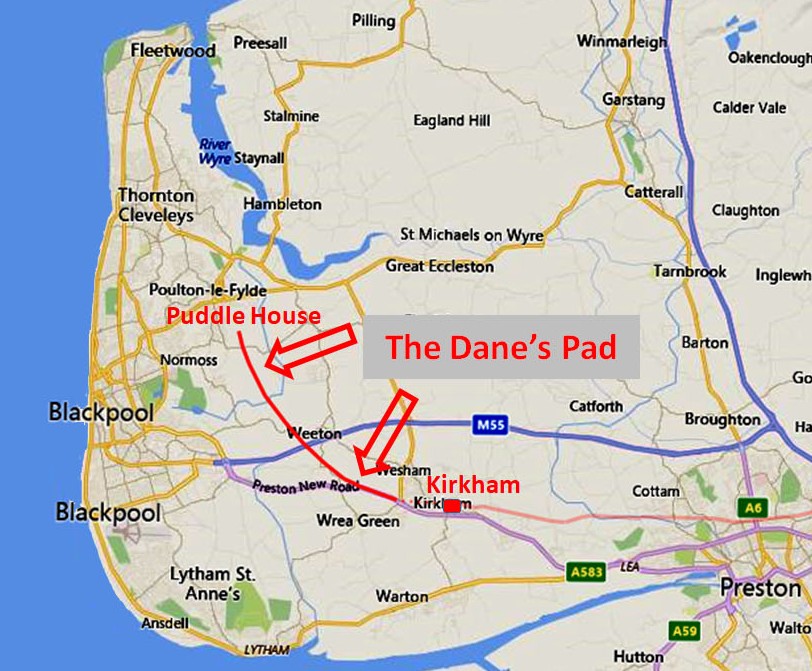 The above map illustrates the path suggested from the OS maps.
Another of our ex-members, Ted Lightbown, has written a very informative book on the Danes Pad called "The Danes Pad: A Roman Road to Nowhere". In it he looks at the evidence (or lack of evidence) of the Danes Pad. This is extremely well researched and is well worth a read.
After Ted's demise, his widow gave permission for the book to be converted into a web-friendly version.  This can be seen here.
Another book that covers much of the same area is "Walking Roman Roads - in the Fylde and Ribble Valley" by Philip Graystone.
There seems to be a hidden agenda in the search for the Danes Pad north of Kirkham and that is in the search for Portus Setantiorum - the Roman port mentioned by Ptolemy and located somewhere in the North-West of England. If the port was situated somewhere in the Fleetwood/Wyre area it would make sense for a road to reach it from Kirkham - but not necessarily by the route shown on the old OS maps.
There are several Tithe Maps (found in the Resources section) that cover the supposed route of the Danes Pad.
Several years ago, a couple of our members investigated the possible route.  You can check out their observations here..
The area around Westby is shown on the OS maps as being part of the possible Danes' Pad.  Our research can be found here.